Today is Pink Shirt Day and what an amazing day it was!
Students in our school brainstormed words that represented Pink Shirt Day to them, and then we were able to create these tshirts with their words!
We surprised everyone at our assembly with our performance to the song, "One Day".
Next, we snuck down to the middle school in town to show them our flashmob to celebrate Pink Shirt Day.
In class we have been reading the story, "Mr. Peabody's Apples" by Madonna.
Today we made our own pillows by sewing fleece.
Next, we regretfully took a pair of scissors and cut a hole in our beautiful pillows.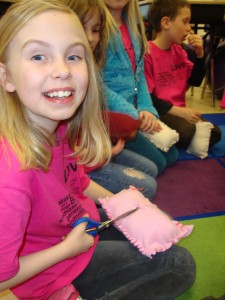 Although we were sorry, we could not take back what we did.
We could, however, stitch them up as best we could.
How does the story of "Mr. Peabody's Apples" relate to Pink Shirt Day?
What was your favourite part about Pink Shirt Day this year?