In honour of Pink Shirt Day today, we acted out the following poem:
Four o'clock, Friday, I'm home at last, 
time to forget the week that's passed.
On Monday break they stole my ball 
And threw it over the garden wall.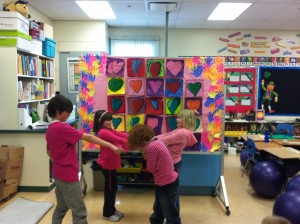 On Tuesday morning, I came in late, 
But they were waiting behind the gate.
On Wednesday afternoon, in games, 
They threw mud and called me names.
Yesterday, they laughed after the test, 
'cuz my marks were lower than the rest.
Today, they trampled my books on the floor 
And I was kept in because I swore.
Four o'clock, Friday, at last I'm free;
For two whole days they can't get me.